Shop Local This Holiday Season!
The Chamber's Holiday Promotion is back! The 2nd Annual "Put Your Money Where Your Love Is #BUYBVI"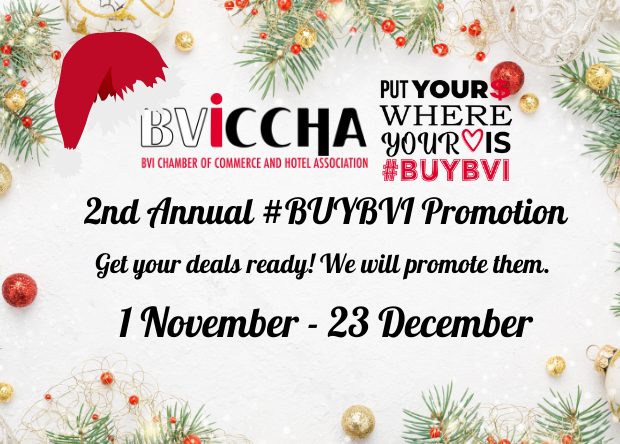 holiday promotion is scheduled for 1 November – 23 December 2021. As we continue to face the repercussions of COVID-19 and the effect it continues to have on our economy, this promotion will once again help to show the people of the Virgin Islands the importance of our commerce industry and the importance of circulating revenue within the Virgin Islands. We will promote shopping locally instead of shopping online or importing goods/products this holiday season.
The "Put Your Money Where Your Love Is #BUYBVI" initiative will be promoted from November 1st through December 23rd. All participating businesses will have a month-long promotion as well as a Deal of the Day. These deals will be featured on our BVICCHA Facebook Page (which has seen exponential growth in the last 18 months).
The advantages of supporting our local, independent businesses are obvious, but perhaps we need reminding.
When dollars are spent with local businesses, that money strengthens those organizations and helps stabilize the jobs they've created.
Those businesses and their employees in turn are better able to support local charities with their time and money.
Spending with independent, local businesses also allows business owners and their employees to provide for their families - ballet, piano, or karate lessons; football, track, or cheer; back-to-school clothes and books; or the money needed for college tuition.
Most people can understand and appreciate these positive impacts, but far too often the convenience "one-click" shopping for something we could find down the street wins out. Let's all do our part to "BUYBVI" this holiday season and think local before we make that next purchase!
The best part!!
Free for members
Only $25 for future members.
We do all the work for you!  It's a win-win!